Installation Instructions for Fontana Milan Single Lever Sink Faucet

Fontana Milan Single Lever Wall Mount Shiny Gold 8.27" (210MM) Sink Faucet

---

Give your bathroom an elegant glance with sink faucets and fixtures. Single lever bathroom faucet in shiny gold is the perfect complement to today's modern home. Shiny gold finish has rapidly become one of the trendiest finishes across décor styles in the bathroom. Capturing the style of minimalist design, purist faucets deliver streamlined water control. This sink faucet trim features a 90-degree angled spout for easy operation. The convenient wall-mount design provides a clutter-free countertop in your bath or powder room. Be sure, when it comes to new bathroom sink faucets, FontanaShowers is offering shape, finish and styles you're looking for.

Fontana Milan Single Lever Wall Mount Shiny Gold 8.27" (210MM) Sink Faucet Features:

Brand Name: FontanaShowers
Model Number: FS9562
Type: Sink Faucet
Number of Handle:Single Lever
Surface Treatment: Polished
Hot and Cold Cater: Yes
Style: Single Support Dual Hole
Installation Holes : 2 Holes
Installation Type: Wall Mount
Core Material: Ceramic
Suitable: Bathroom / Hotel
Color: Shiny Gold 8.27"(210 mm)
Spout Style: Round
Customizable Yes
Hoses: 2 Piece Included




FontanaShowers® Product Warranty Information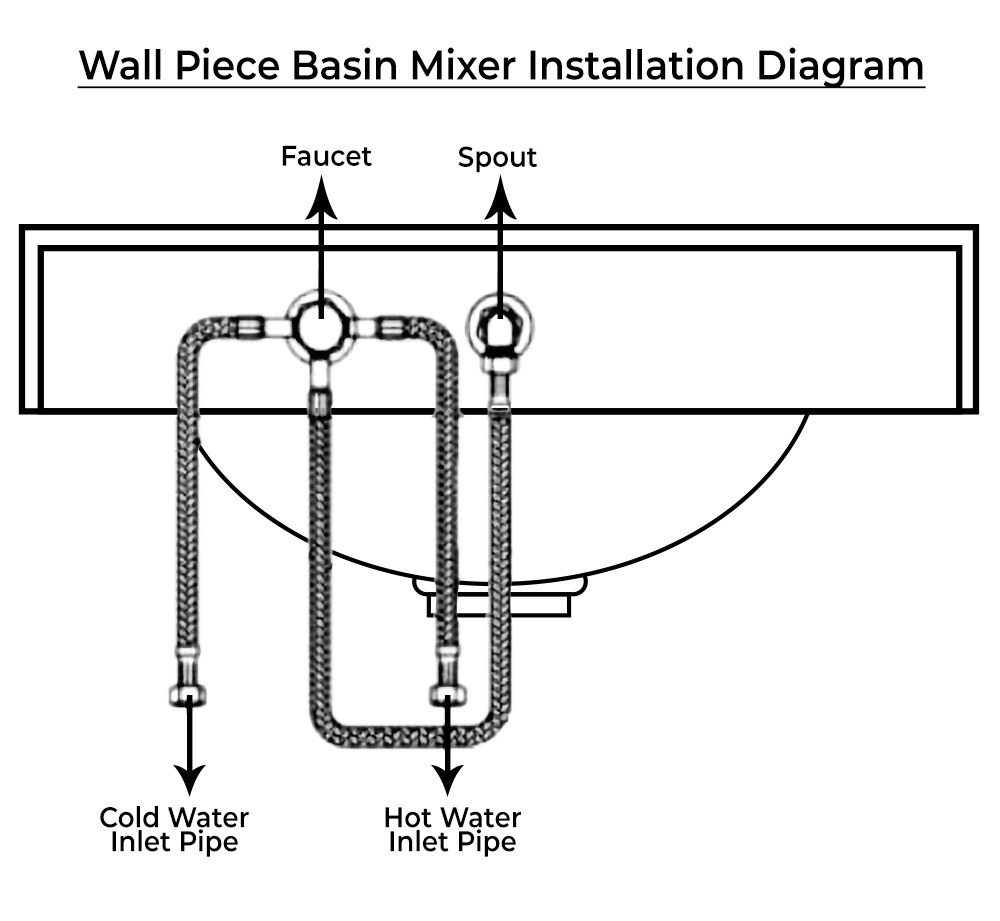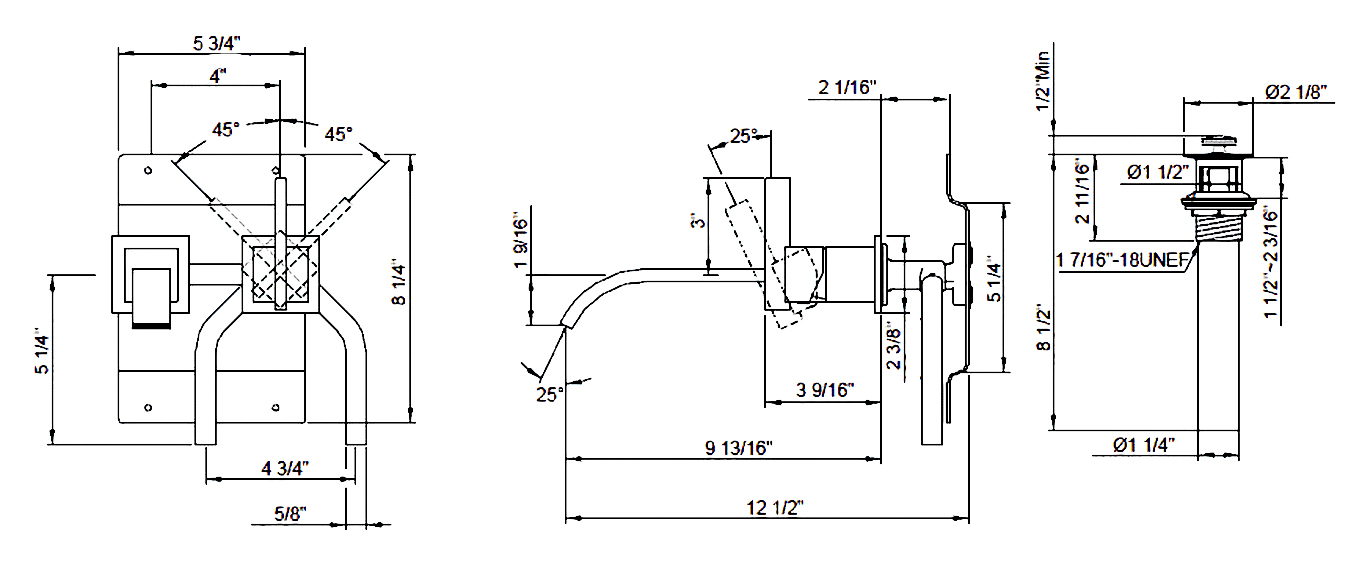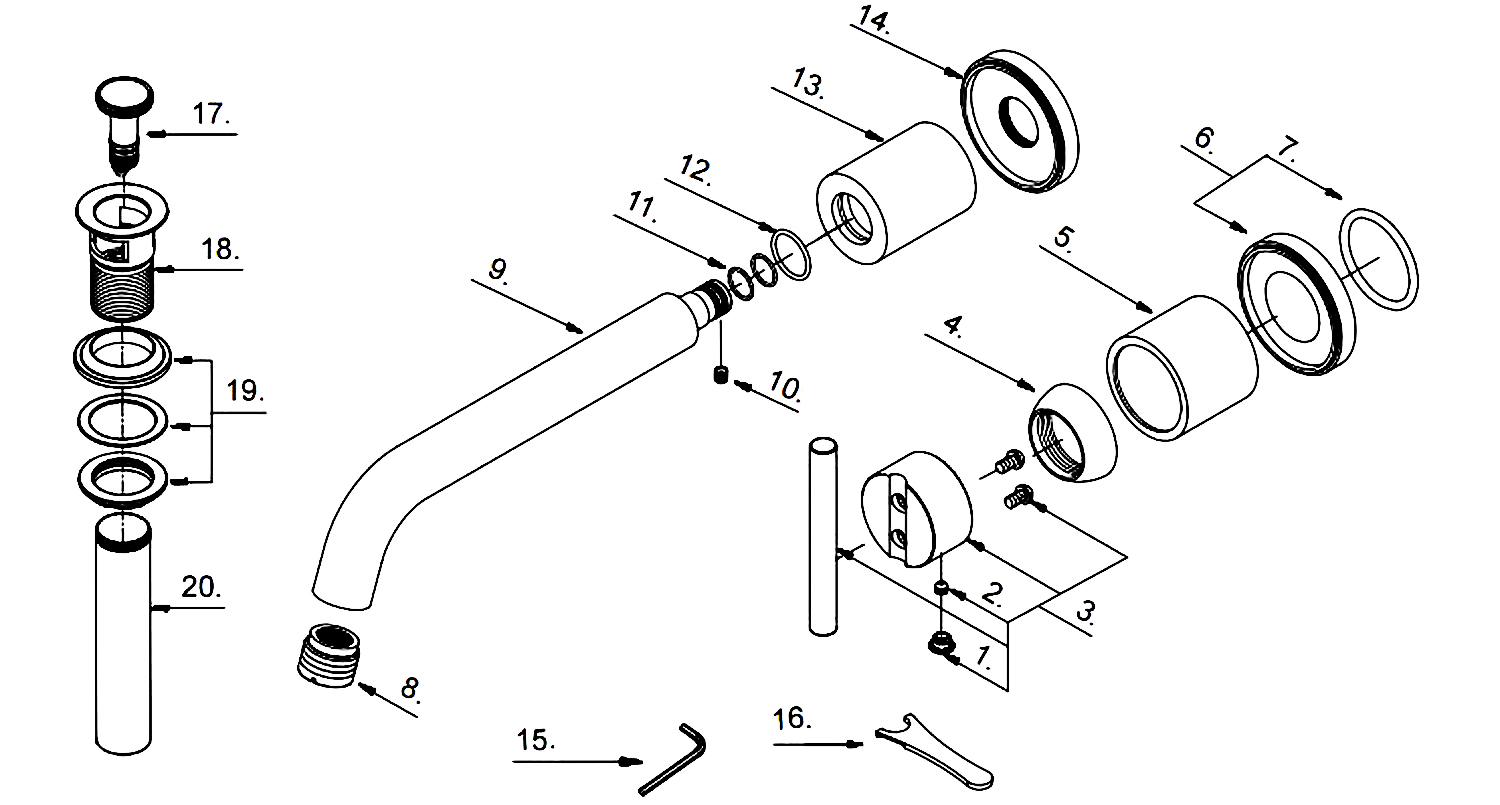 Install spout trim ring onto spout shank.
Loosen set screw from the valve.

hutch sport to spout shook

a)Slide bock spout body from spout end.
b)Slide spout onto spout mounting shank. Tighten set screw with the hex wrench.
C)Slide spout body to spout trim ring.

Install the handle trim ring, sleeve, and cap onto handle valve.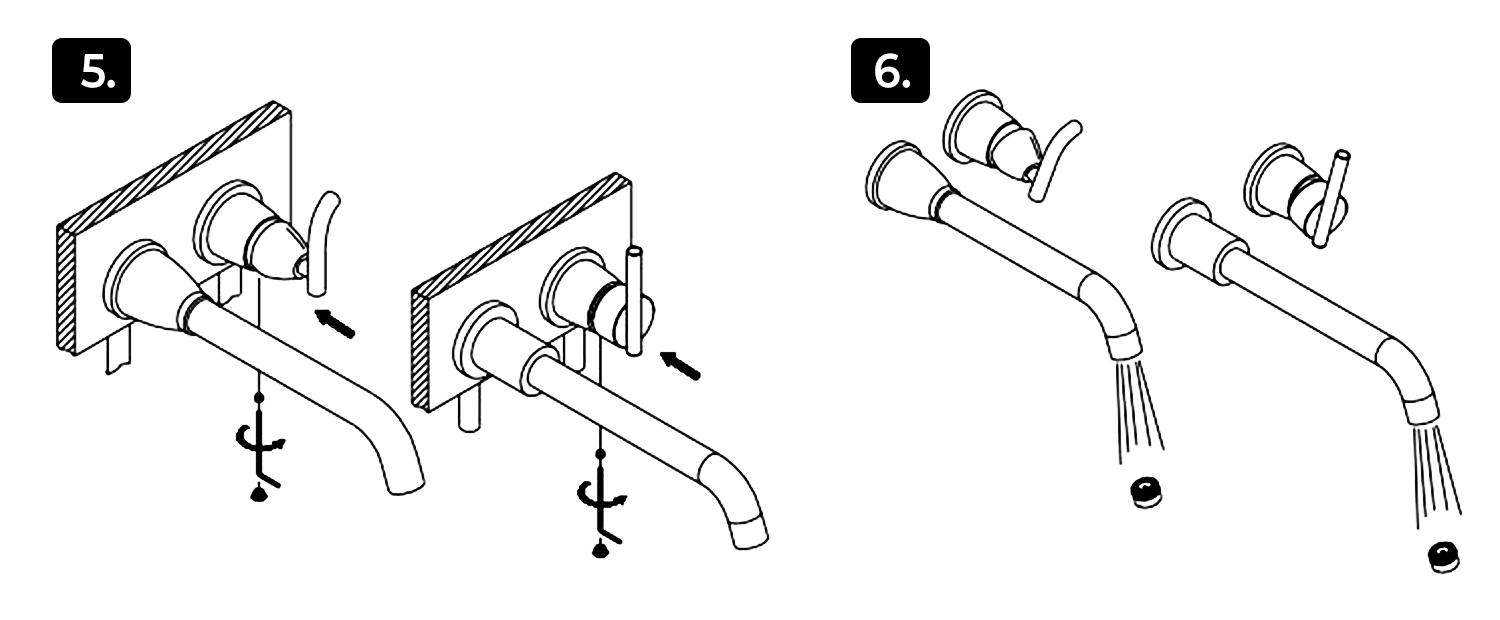 Install handle with cartridge by tightening set screw. Put the insert.
After installing the faucet, remove the aerator and turn on the water to remove any left-over debris. Re-assemble aerator.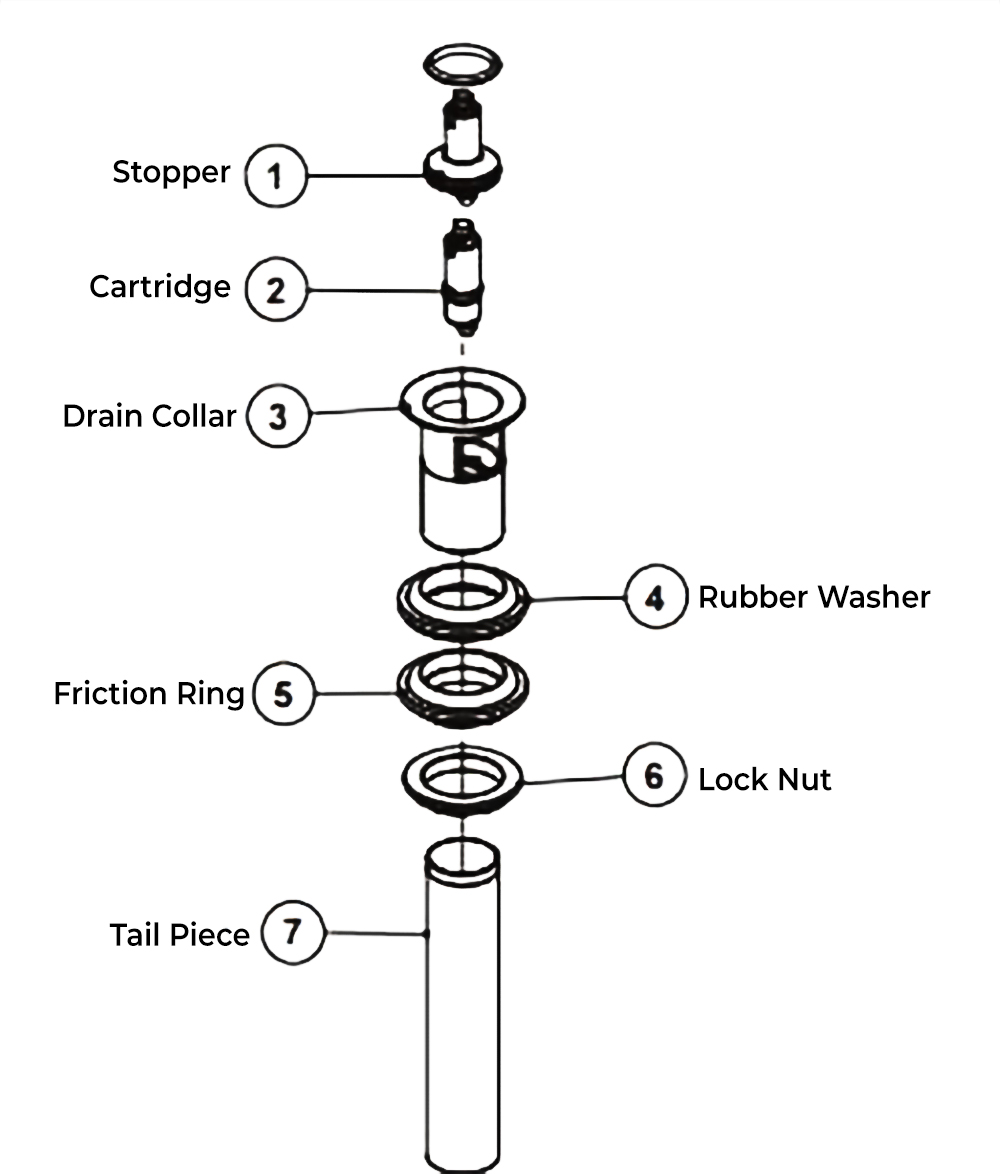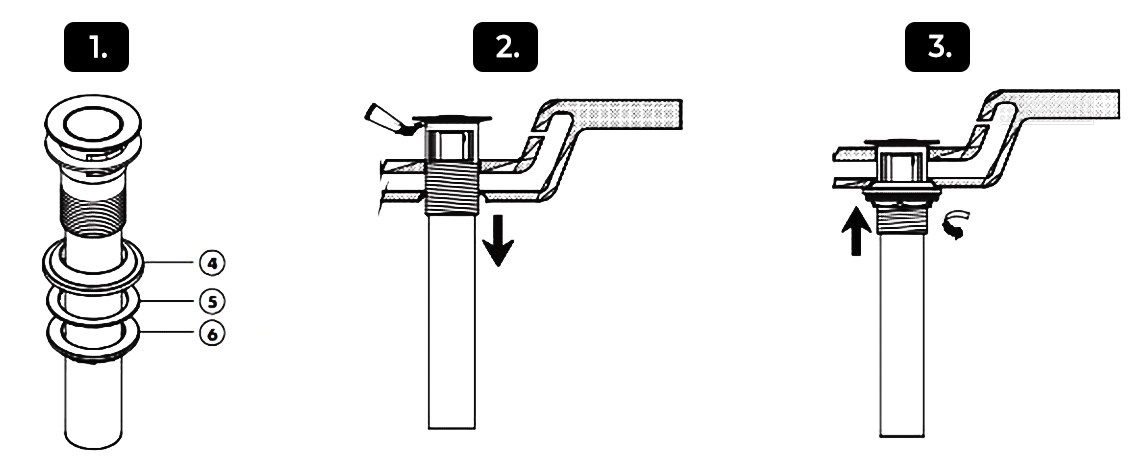 Remove rubber washer (4), friction ring (5) and locknut (6) from the drain assembly.
Place a ring of silicone sealant beneath the lip of drain collar (3) and place it in the opening of the sink. Press down firmly to secure the drain collar (3).
Screw rubber washer (4), friction ring (5) and locknut (6) onto drain collarFor drain cartridge replacement or cleaning

Remove cartridge (2) from drain: a)Push stopper to raised position. Unscrew the stopper cap from the cartridge. b)Using a wrench or pliers, unscrew the cartridge from drain collar and remove from drain.

5. Reinstall cartridge (2) into drain collar: a) Thread on stopper cap.